To the moon and back! A stellar accreditation for MASONRY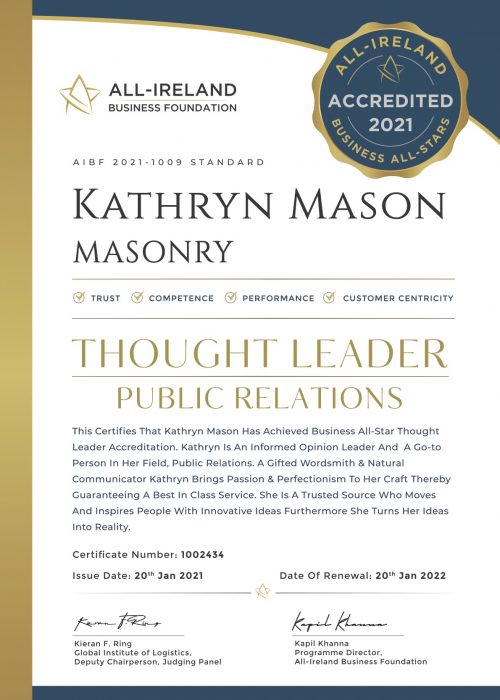 This week at MASONRY we are over the moon to announce something we have been striving for!
We have been extremely busy working alongside the All-Ireland Business Foundation to achieve our Business All-Star Accreditation Certificate.  This accreditation is an outstanding achievement and recognises the best in class service we deliver to all our clients.
MASONRY has been recognised with the accreditation and our founder, Kathryn Mason, has also been recognised  as Thought Leader in Public Relations. Speaking about the accreditation Kathryn said "Endorsement from the All-Ireland Business Foundation following such a meticulous process is a massive honour for me and The MASONRY team."  It highlights our commitment our hard work and dedication. Ensuring our clients are always at the heart of what we do by seamlessly integrating and becoming part of their team is of the utmost importance, I am thrilled our ethics have been recognised and celebrated today."
At MASONRY we make our clients story matter with public relations.  MASONRY everyday demonstrates the three pillars of All-Ireland Business All-Star accreditation which are Performance, Trust and being Customer Centricity.
Business All-Star accredited companies are defined as; progressive, indigenous Irish businesses which meet the highest standards of verified performance, trust and customer centricity. In achieving this accreditation we join a unique group of businesses and we believe this continues to demonstrate our commitment to improving our service to our customers and suppliers.
We look forward to being part of the Business All-Star community.